How to Summarize YouTube Videos – A Comprehensive Guide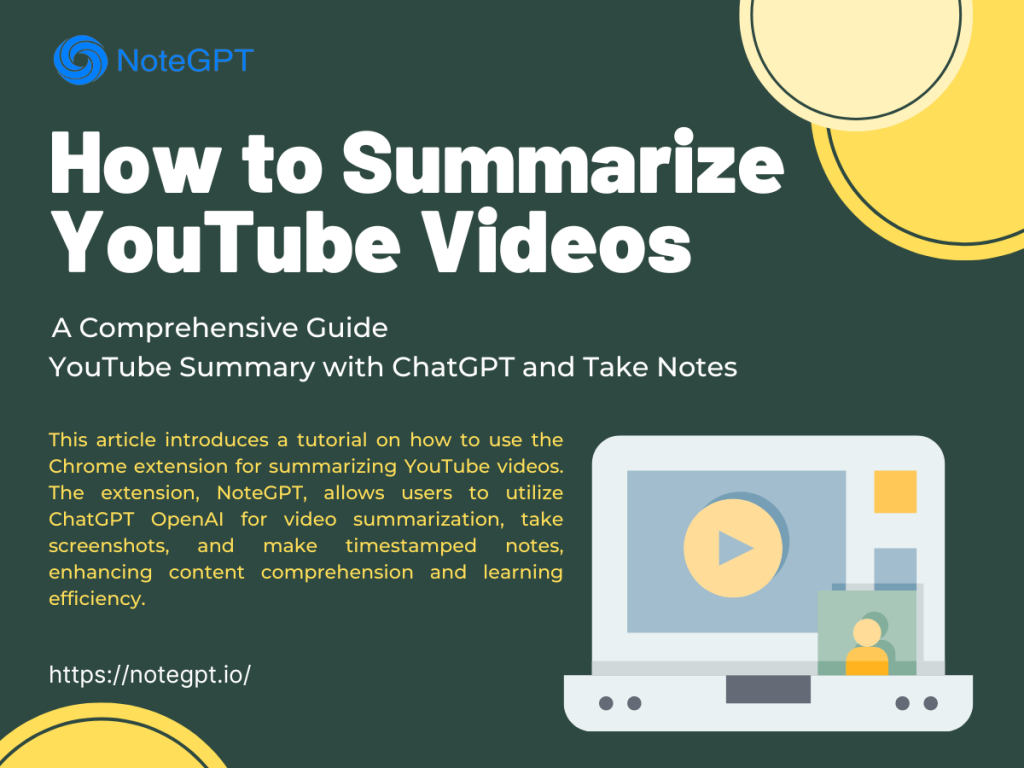 Contents
---
Introduction
Have you ever found yourself watching lengthy YouTube videos and wishing you could get a quick summary of their content? Whether you're a student trying to review educational videos or just looking to save time while browsing, NoteGPT is here to help! In this comprehensive guide, we'll walk you through the process of using NoteGPT to summarize YouTube videos effectively. NoteGPT is a powerful tool that combines the capabilities of ChatGPT and note-taking, making it easier than ever to obtain video summaries and take notes simultaneously.
What is NoteGPT: Summary with ChatGPT and Take Notes
NoteGPT is a revolutionary Chrome extension that leverages the power of ChatGPT and enables you to extract valuable insights from YouTube videos seamlessly. It uses the latest AI technology to generate accurate summaries and provide a note-taking feature, making it a versatile tool for various purposes. Whether you're a content creator, researcher, or someone who enjoys watching YouTube videos, NoteGPT is a game-changer when it comes to enhancing your video-watching experience.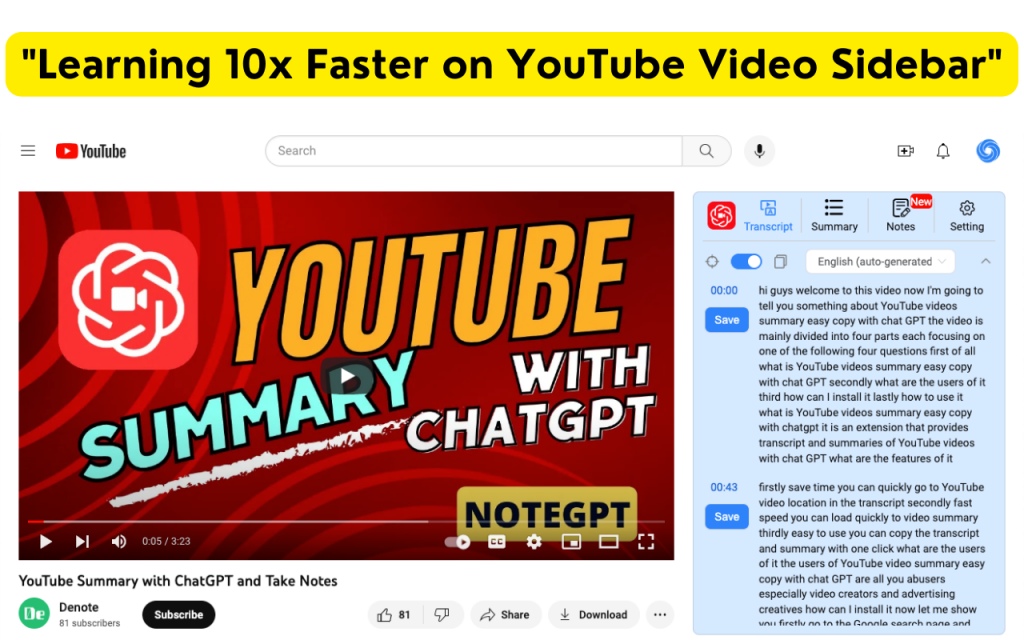 Installation of NoteGPT Chrome Extension
Getting started with NoteGPT is a breeze. Here's a step-by-step guide to installing the Chrome extension:
Open your Google Chrome web browser.
Go to the Chrome Web Store.
Search for "NoteGPT" in the search bar.
Click on the NoteGPT extension from the search results.
Click on the "Add to Chrome" button.
A pop-up will appear; click "Add extension" to confirm the installation.
Once installed, you'll see the NoteGPT icon in your Chrome browser's toolbar.


Congratulations! You now have NoteGPT ready to use.
How to Automatically Obtain YouTube Transcripts
Before you can start summarizing YouTube videos, you'll need their transcripts. NoteGPT makes this process automatic and hassle-free. Here's how you can do it: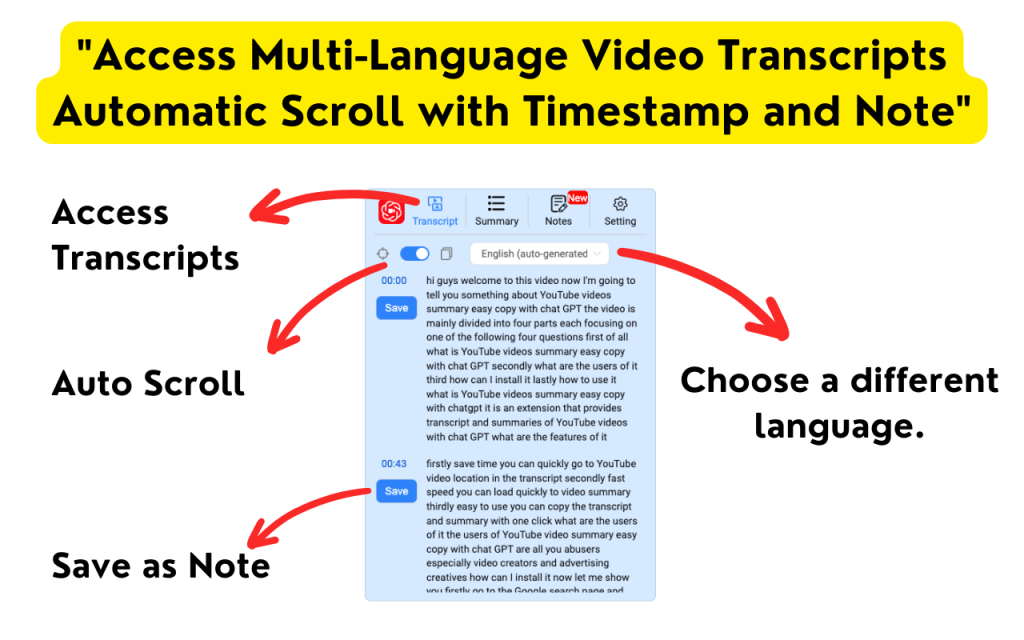 NoteGPT provides an automated and seamless way to obtain YouTube video transcripts, supporting multiple languages and offering convenient options for copying and auto-scrolling the transcript as the video plays.
Step 1: Activate Transcript Retrieval
Click on the "Note" tab in the NoteGPT sidebar.
While the YouTube video is playing, click on the designated "Transcript" button within the NoteGPT interface to initiate the automatic transcript retrieval process.
Step 2: Multi-Language Support
NoteGPT supports multiple languages for YouTube transcripts. The extension will automatically detect and fetch the transcript in the language corresponding to the video content.
Enjoy the convenience of accessing video transcripts in different languages without any manual intervention.
Step 3: Copy Transcript
After the transcript is fetched, you can effortlessly copy it to your clipboard for quick reference or further processing.
Click on the "Copy Transcript" button within the NoteGPT interface to copy the transcript in its entirety.
Step 4: Auto-Scrolling Transcript
As you watch the YouTube video, NoteGPT offers an auto-scrolling feature that synchronizes the transcript with the video playback.
The transcript will automatically scroll, highlighting the corresponding text as the video progresses, ensuring a smooth and cohesive experience.
With NoteGPT's automated transcript retrieval, you can efficiently access YouTube video transcripts in various languages and effortlessly copy them for your convenience. The auto-scrolling feature enhances your comprehension and note-taking while watching the video. Make the most of your video-watching experience with NoteGPT's powerful automation capabilities. Happy viewing and transcribing!
How to Use ChatGPT to Get YouTube Video Summaries and Highlights
NoteGPT integrates the power of ChatGPT to summarize YouTube videos and highlight key points. Follow these steps to create a concise and informative summary: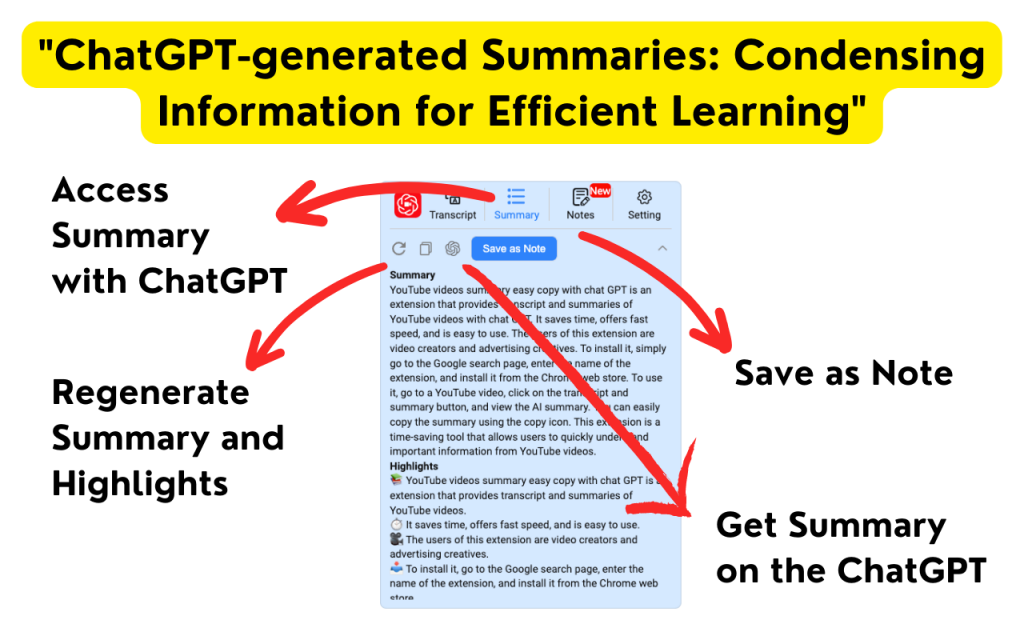 ChatGPT offers a convenient way to obtain YouTube video summaries and highlights. There are two main methods to utilize ChatGPT for this purpose:
Method 1: Using ChatGPT Key (Recommended)
Obtain your ChatGPT API key from the preferred provider.
In the ChatGPT interface or the application integrated with NoteGPT, locate the option to enter the API key.
Fill in the API key to establish the connection between ChatGPT and NoteGPT.
Benefits of Using ChatGPT Key
Quick Access: With the API key in place, you can swiftly generate summaries and key points without any delay.
Efficient Summarization: ChatGPT's language model effectively condenses video content into concise and informative summaries.
Easy Repetition: You can repeatedly generate new summaries to capture different perspectives or emphasize various aspects.
Method 2: Direct Access to ChatGPT
Navigate to the ChatGPT interface within NoteGPT or the application you are using.
Access the ChatGPT functionality by clicking on the relevant section or button.
Features of Direct Access
On-the-Fly Summaries: Instantly view summaries of the YouTube video you are watching without the need for an API key.
Copying Options: You can easily copy the generated summary to share or store for future reference.
Regardless of the method you choose, ChatGPT provides a powerful and flexible approach to extract video summaries and highlights. Feel free to experiment with different options to optimize your video consumption experience. Happy summarizing!
How to Take Notes and Screenshots While Watching YouTube Videos
Taking notes while watching YouTube videos is essential for retaining important information. NoteGPT offers a built-in note-taking feature that allows you to jot down crucial points and even capture screenshots. Here's how: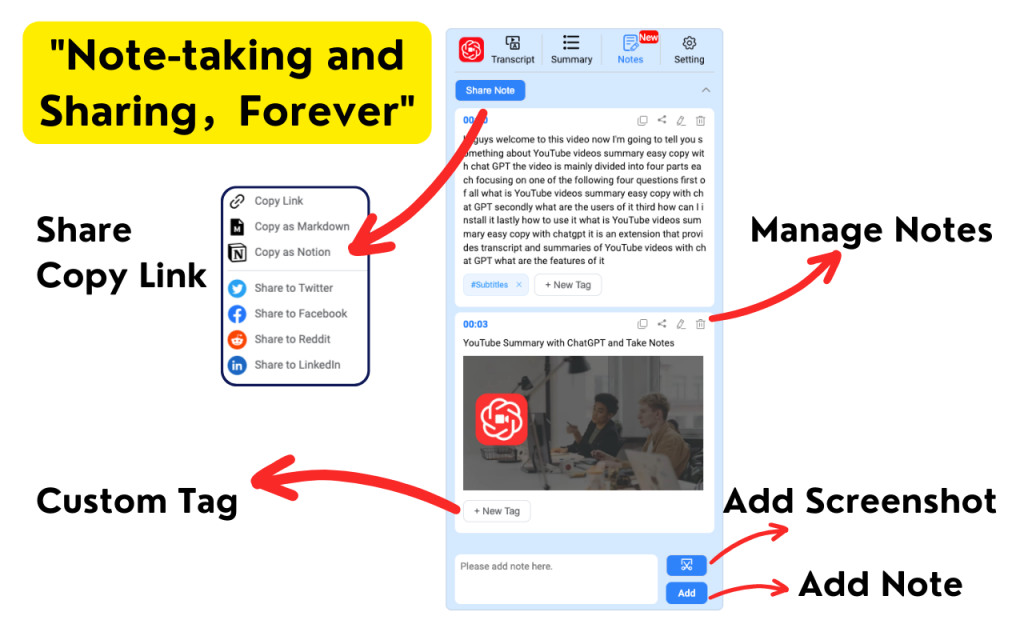 NoteGPT offers a seamless way to take notes and screenshots while watching YouTube videos. Additionally, it provides the ability to permanently save your notes and easily share them with others using various sharing options.
Step 1: Activating Note-Taking and Screenshot Feature
Click on the "Note" tab in the NoteGPT sidebar.
While the video is playing, click on the designated note-taking button within the NoteGPT interface. This will enable the note-taking mode.
Step 2: Taking Notes and Screenshots
As the video progresses, type your notes in the note-taking section of NoteGPT. You can jot down important points, ideas, or any insights you gain from the video.
If you wish to capture a specific frame or image from the video, simply take a screenshot by using the screenshot functionality provided by NoteGPT.
Step 3: Saving Your Notes
Once you have finished taking notes and capturing screenshots, click on the "Save" button within the NoteGPT interface to permanently save your notes for future reference.
Step 4: Sharing Your Notes
To share your notes with others, click on the "Share" button located in the top-right corner of the NoteGPT interface.
NoteGPT offers multiple sharing options:
Copy Link: Copy the link to your notes and share it with anyone you wish.
Copy as Markdown: Copy the notes in Markdown format for easy integration into other platforms.
Copy as Notion: Copy the notes in a format compatible with Notion for seamless sharing within the Notion app.
Share to Twitter, Share to Facebook, Share to Reddit, Share to LinkedIn: Directly share your notes on various social media platforms.
With NoteGPT, you can effortlessly enhance your YouTube video-watching experience by capturing essential information through notes and screenshots. Save and share your insights to make the most of your video consumption. Happy note-taking and sharing!
More Customization Options and User Support
NoteGPT offers a range of customization options to tailor your experience with ChatGPT-generated summaries and supports various AI providers for advanced language models. Additionally, NoteGPT values user feedback and aims to provide excellent products and services with dedicated support channels.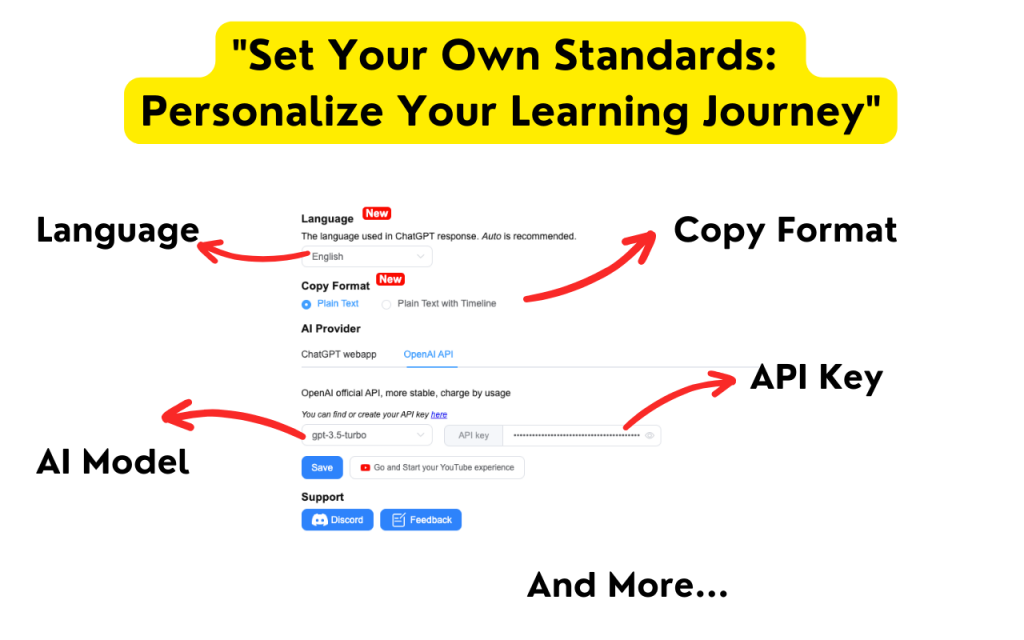 Custom Language Selection
Set your preferred language for ChatGPT-generated summaries. We recommend using the Auto mode, which automatically detects your browser's language for seamless integration.
Copy Format Options
Customize how you copy the transcript with two distinct formats:
Plain Text: Copy the transcript in a simple text format for easy sharing and reference.
Plain Text with Timeline: Copy the transcript along with timestamps to precisely locate specific sections.
Personalized Prompts for Summary
NoteGPT offers a default ChatGPT prompt for generating summaries, but you can take it a step further and create your own custom prompts. Tailor ChatGPT's responses to match your specific needs and preferences.
AI Provider Selection
Choose from various AI providers for ChatGPT, including the official OpenAI API. Supported models include gpt-3.5-turbo and gpt-4. Select the one that best suits your requirements for summarization and language processing.
User Support and Feedback
At NoteGPT, we value our users' opinions and strive to enhance our products and services continually. Connect with us through dedicated support channels:
Discord: Join our community on Discord to interact with other users and receive prompt assistance from the NoteGPT team.
Feedback: Share your thoughts, suggestions, and feedback with us. Your input helps us make NoteGPT even better.
With these extensive customization options and user support features, NoteGPT empowers you to optimize your video summarization and note-taking experience. Explore the possibilities and engage with our supportive community to make the most of this powerful tool. Happy customizing and summarizing!
Conclusion
NoteGPT is a revolutionary Chrome extension that simplifies the process of summarizing YouTube videos and note-taking. With its integration of ChatGPT and automatic transcript retrieval, you can save time and effort while accessing valuable content. Whether you're a student, researcher, or simply a curious learner, NoteGPT is an invaluable tool in your digital toolkit. Install the extension today and unlock a whole new world of efficient video-watching and learning. Happy summarizing!