The Best Learning Tool Enhances Your Udemy Courses – NoteGPT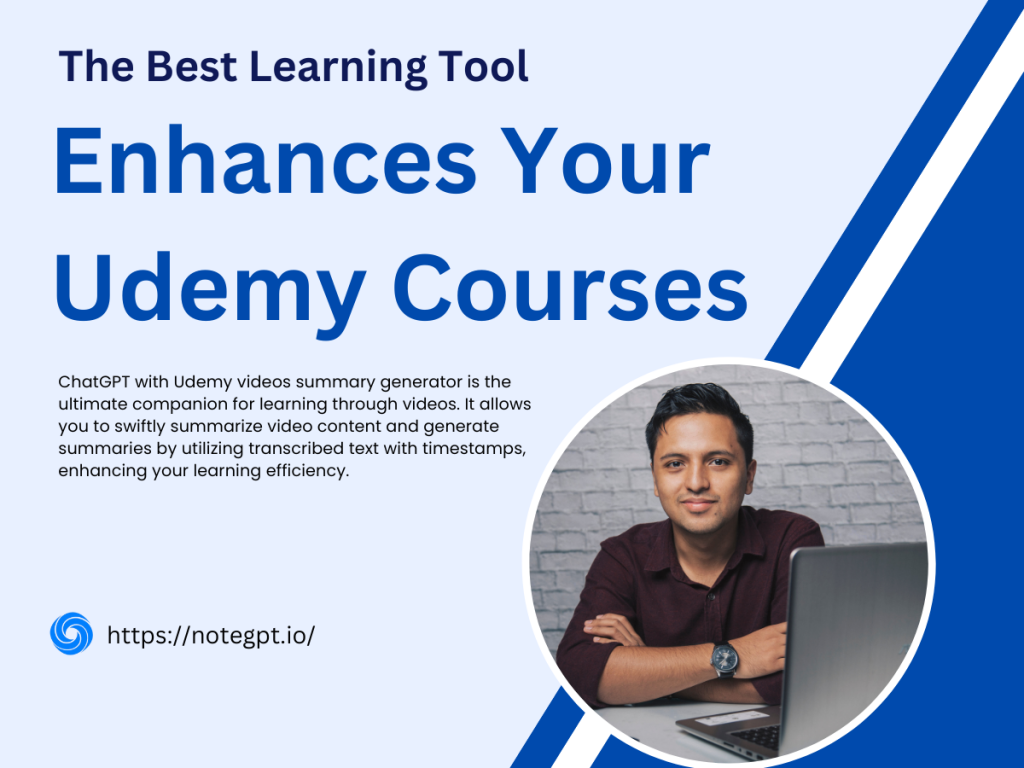 Contents
---
Introduction
In today's digital age, online learning platforms like Udemy have revolutionized education, providing access to a wide range of Udemy courses on various subjects. Whether you're looking to enhance your skills, acquire new knowledge, or explore a hobby, Udemy Courses offers a plethora of options. However, with the abundance of courses available, it can be challenging to make the most of your learning experience. Fortunately, there's a powerful learning tool that can elevate your Udemy courses to a whole new level - "Udemy Summary with ChatGPT and Take Notes," a Chrome extension powered by NoteGPT.
What is Udemy Courses?
Udemy is an online learning platform that offers a wide range of courses on various subjects. These udemy courses are created and taught by instructors from around the world. Udemy's courses cover a diverse array of topics, including but not limited to:
Technical Skills: Courses on programming languages (e.g., Python, JavaScript, Java), web development, data science, machine learning, artificial intelligence, and IT certifications.
Business and Entrepreneurship: Courses on business development, entrepreneurship, marketing, finance, leadership, project management, and sales.
Personal Development: Courses on personal growth, time management, productivity, mindfulness, stress management, and self-improvement.
Design and Creativity: Courses on graphic design, web design, video editing, photography, and creative skills.
Languages: Courses for learning foreign languages, including English, Spanish, French, German, and many others.
Health and Fitness: Courses on fitness, nutrition, yoga, meditation, and overall well-being.
Lifestyle and Hobbies: Courses covering hobbies such as cooking, painting, music, crafts, and gaming.
Academic and Test Preparation: Courses for academic subjects (e.g., mathematics, science, history) and test preparation (e.g., SAT, GRE, TOEFL).
Professional Development: Courses tailored to specific industries and professions, including finance, healthcare, education, and more.
Udemy courses vary in length and complexity, and they are typically presented in video format, with supplementary materials such as quizzes, assignments, and downloadable resources. Students can enroll in courses, watch lectures at their own pace, interact with instructors and other students through discussion forums, and complete assignments to reinforce their learning.
One of the advantages of Udemy is that it offers both free and paid courses, making education accessible to a broad audience. Users can access courses on-demand from their computers, smartphones, or tablets, allowing for flexible learning at their convenience.
Udemy provides a valuable platform for both learners seeking to acquire new skills and knowledge and instructors looking to share their expertise with a global audience, like Udemy python courses. It has become a popular choice for self-paced online learning across a wide range of disciplines.
How to Get Udemy Courses for Free?
Getting Udemy courses for free legally and ethically involves taking advantage of Udemy's own offerings and promotions, as well as leveraging external resources. Here's a guide on how to access Udemy courses for free:
1. Udemy Free Courses:
Udemy's Free Course Section: Udemy itself provides a section on their platform where instructors offer free courses. Simply visit Udemy's website, go to the search bar, and type "free courses" or navigate to their "Free Courses" section.
Course Coupons: Instructors often provide free coupons or discount codes for their courses. You can find these coupons on their course landing pages or websites. There are also websites and forums dedicated to sharing Udemy course coupons.
2. Promotions and Discounts:
Udemy Promotions: Udemy frequently runs promotions, especially during holidays or special events. Keep an eye on Udemy's website and subscribe to their newsletter to stay updated on these offers.
3. External Resources:
Coupon Websites: Websites like RetailMeNot, CouponFollow, and Coupons.com sometimes list Udemy course coupons. However, be cautious and ensure that the coupons are still valid.
Reddit and Online Communities: Subreddits like r/udemyfreebies and r/learnprogramming often share Udemy course coupons and free courses. Engaging in online forums and communities related to your field of interest can help you discover free courses.
YouTube: Some instructors offer free courses on Udemy and promote them through their YouTube channels. Searching for "free Udemy courses" on YouTube might lead you to such content.
4. Udemy for Business:
Free Trial: If your organization has a subscription to Udemy for Business, you may have access to Udemy courses for free through your workplace. Check with your HR or IT department to see if this benefit is available to you.
5. Scholarships and Grants:
Udemy Scholarships: Udemy occasionally offers scholarships for certain courses or programs. Keep an eye on their scholarship announcements.
6. Instructor Collaboration:
Contact Instructors: Some instructors might be willing to provide free access to their courses in exchange for feedback or as part of a collaborative effort. You can contact instructors directly and inquire about the possibility of free access.
7. Educational Platforms:
MOOC Platforms: Some Massive Open Online Course (MOOC) platforms like Coursera, edX, and FutureLearn offer free courses in partnership with universities and institutions. While these are not Udemy courses, they provide valuable learning opportunities.
What is Udemy Summary with ChatGPT and Take Notes?
Udemy Summary with ChatGPT and Take Notes is a Chrome extension that enhances your Udemy learning experience by providing two essential features: automated course summarization and note-taking capabilities. This powerful extension is part of the NoteGPT ecosystem, which utilizes advanced AI technology to aid learners in comprehending and retaining course content more effectively.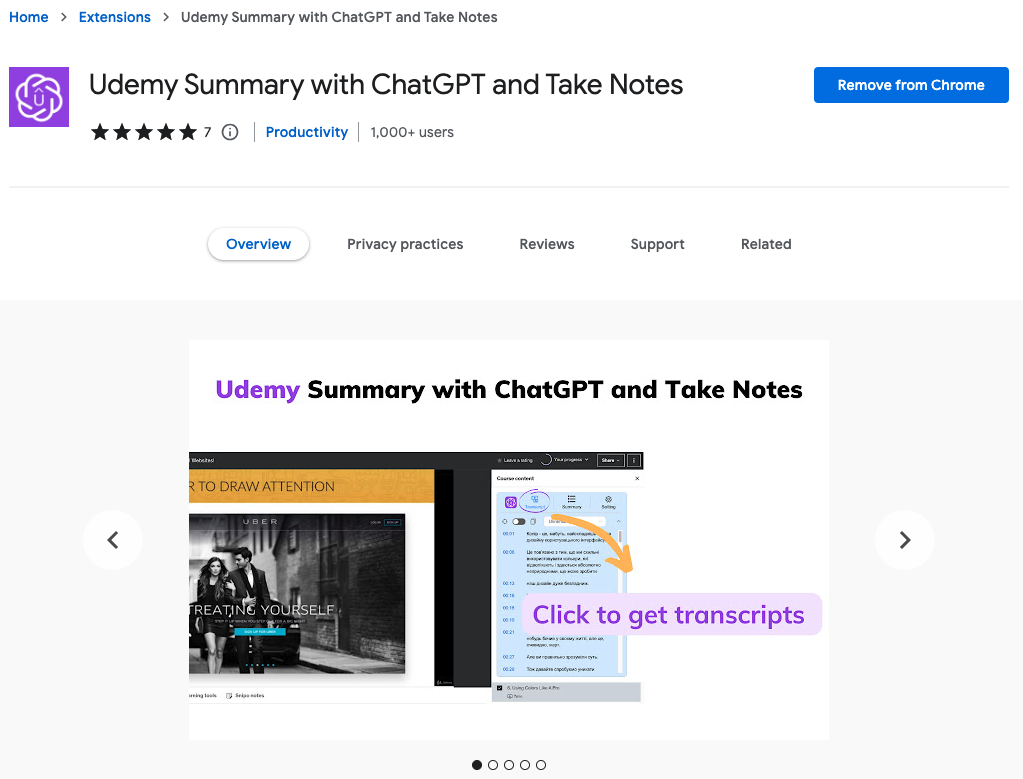 Here's a closer look at what this Chrome extension offers:
1. Automated Course Summarization:
One of the core features of Udemy Summary with ChatGPT and Take Notes is its ability to automatically generate concise summaries of each section of your Udemy course content. These summaries help you quickly grasp the key concepts and main points without having to sift through lengthy videos or transcripts.
The automated summarization is powered by ChatGPT, an AI model developed by OpenAI. ChatGPT excels in generating human-like text and can extract the most critical information from course materials.
2. Effortless Note-Taking:
Another valuable aspect of this Chrome extension is its integrated note-taking functionality. While you're watching Udemy course videos, you can take notes directly within the extension. These notes are neatly organized and stored within the extension for easy access and future reference.
How to Use Udemy Summary with ChatGPT and Take Note?
Step1: Installation Chrome Extension
To use this extension, you need to install it in your Chrome browser. You can find it on the Chrome Web Store using the following link: Udemy Summary with ChatGPT and Take Notes. Or search "Udemy Summary" in Chrome Web Store.

Step2: Activation Your Udemy Courses Video
Once installed, you can activate the extension when you're logged into your Udemy account and watching course videos.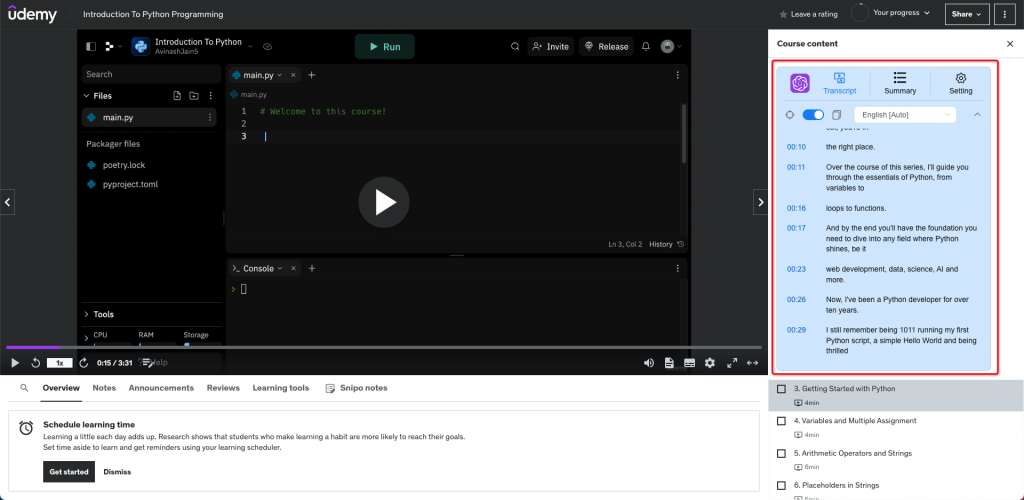 Step3: Summarize Udemy Courses Video with ChatGPT
The extension will automatically generate summaries as you progress through the course. These summaries will be displayed alongside the video, helping you follow along and understand the course material more effectively.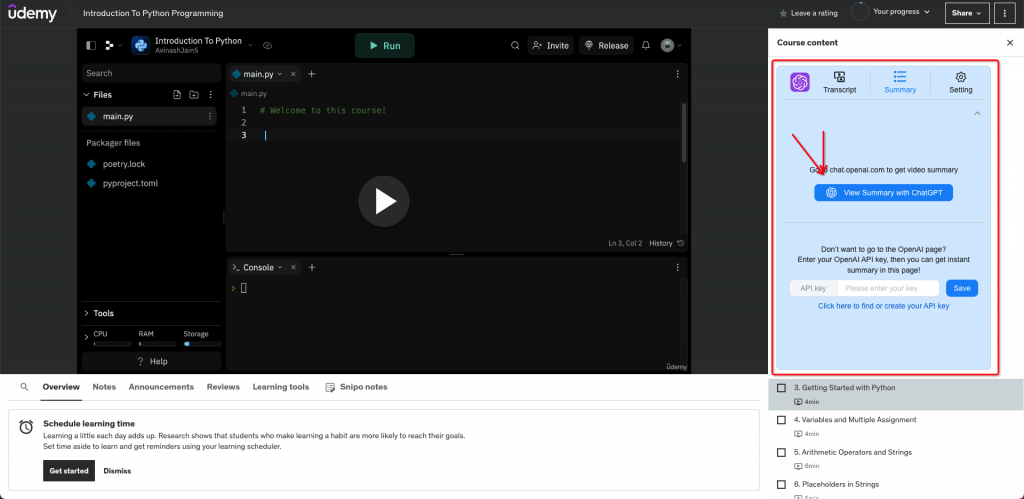 Step4: Take Notes on Udemy Courses Video (Coming Soon)
At any point during the video, you can open the note-taking feature and jot down important points, insights, or questions. These notes are saved within the extension, making it easy to review them later.
Udemy Summary with ChatGPT and Take Notes is a valuable tool for learners who want to make the most of their Udemy courses. It simplifies the learning process by providing summaries and note-taking capabilities, allowing you to focus on understanding and retaining the course material. It's a great example of how AI technology can enhance online education.
Other Issues to Consider
Using NoteGPT and its associated tools for Udemy courses and subtitles involves several steps. Below, I'll outline how to use NoteGPT for various purposes related to Udemy courses and subtitles:
1. How to Download Udemy Courses Subtitles:
Check Udemy's Built-in Features: Udemy offers built-in subtitle options for many of its courses. When you're enrolled in a course, look for the "Subtitles/CC" button in the video player. You can often choose from available subtitle languages or request subtitles if they're not available.
Third-Party Tools: Some third-party tools and websites may allow you to download Udemy course subtitles. However, be cautious and ensure you have the necessary permissions and rights to use these tools, as downloading content without permission may violate copyright laws.
2. How to Get Udemy Courses Dual Subtitles:
Check Udemy's Language Options: Udemy may provide courses with dual subtitles (subtitles in two different languages) for some courses. When enrolling in a course, look for language options or subtitles available for that specific course.
Request Dual Subtitles: If dual subtitles are not available but you require them for a specific course, you can contact Udemy's support or the course instructor to inquire about the possibility of adding dual subtitles.
3. How to Translate Course Subtitles:
Use Machine Translation Tools: You can use machine translation tools like Google Translate to translate course subtitles into your preferred language. Copy and paste the subtitles into the translation tool, select the source and target languages, and review the translated subtitles for accuracy.
4. Udemy Courses Summary with ChatGPT & Claude:
Go to the Udemy website.
Select a course video that you are interested in.
Click the "Transcript & summary" button. If subtitles exist for the video, they will be shown to you.
If you are logged into chat.openai.com, click the View Summary with ChatGPT button to get a video summary.
Click the "Copy" icon, then you can easily get a summary for the Udemy course video.
5. How to Take Notes on Udemy Courses Videos:
This feature is going live.
Use Udemy's Built-in Features: Udemy offers a note-taking feature for some courses. Look for a "Notes" or "Take Notes" option within the course interface. You can use this feature to jot down important points and insights as you watch the course videos.
External Note-Taking Tools: Alternatively, you can use external note-taking tools like Notion, Evernote, or a simple text document to take notes while watching Udemy course videos. Keep these notes organized and structured for easy reference.
Remember to adhere to Udemy's terms of use and respect copyright laws when accessing and using course materials, subtitles, and other resources. Always seek proper permissions and legal avenues for downloading, translating, and sharing course content.
Conclusion
Udemy Courses offers a wealth of knowledge, and with the right tools like NoteGPT, you can make the most of your online learning experience. Accessing Udemy courses for free, summarizing content, and effortlessly taking notes will help you achieve your learning goals more efficiently. Start enhancing your Udemy courses today with the power of NoteGPT!