Video Summarizer and lecture summarizer for Udemy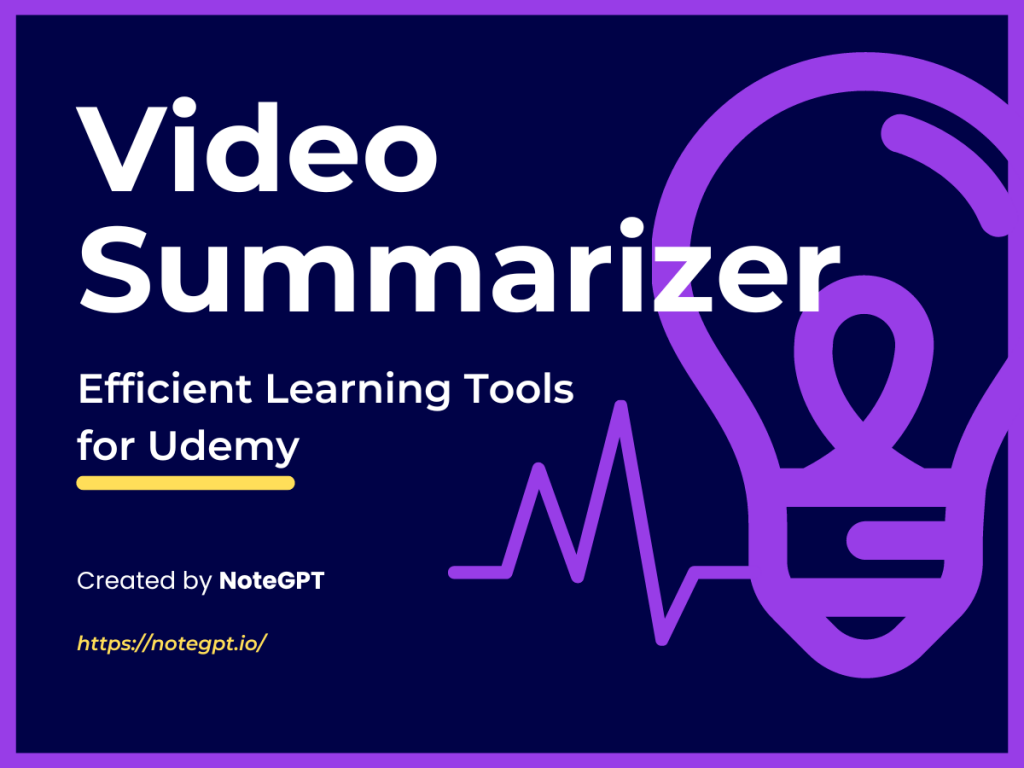 Contents
Introduction
Online learning platforms like Udemy have become immensely popular in recent years. With thousands of courses to choose from, these platforms offer easy access to quality education and training on a wide variety of topics. However, going through long video lectures can be quite time-consuming. This is where tools like video summarizers can help optimize your learning experience on such platforms.
In this post, we will discuss Video Summarizer for Udemy - an efficient browser extension that lets you quickly go through Udemy lectures using AI-powered video transcripts and summaries. We will look at how this handy lecture video summarizer tool can help you grasp the core content faster and enhance your overall learning efficiency on Udemy.
Introducing Udemy
Before diving into the summarizer tool, let us first briefly understand what Udemy is all about.
Platform Overview
Udemy is a leading global marketplace for online video courses. Founded in 2010, it offers over 183,000 courses in topics spanning across business, technology, design, healthcare and more.
With 67 million students and 57,000 instructors across the globe, Udemy is one of the largest marketplaces for online learning. It provides easily accessible and flexible education to learners of all levels and backgrounds.
The platform makes it simple to browse, preview, enroll and start learning from a diverse catalog of video-based courses. Udemy also offers certification of completion to students.
In short, anyone looking for affordable and flexible learning of in-demand skills can benefit from Udemy's extensive course library and stellar instructors.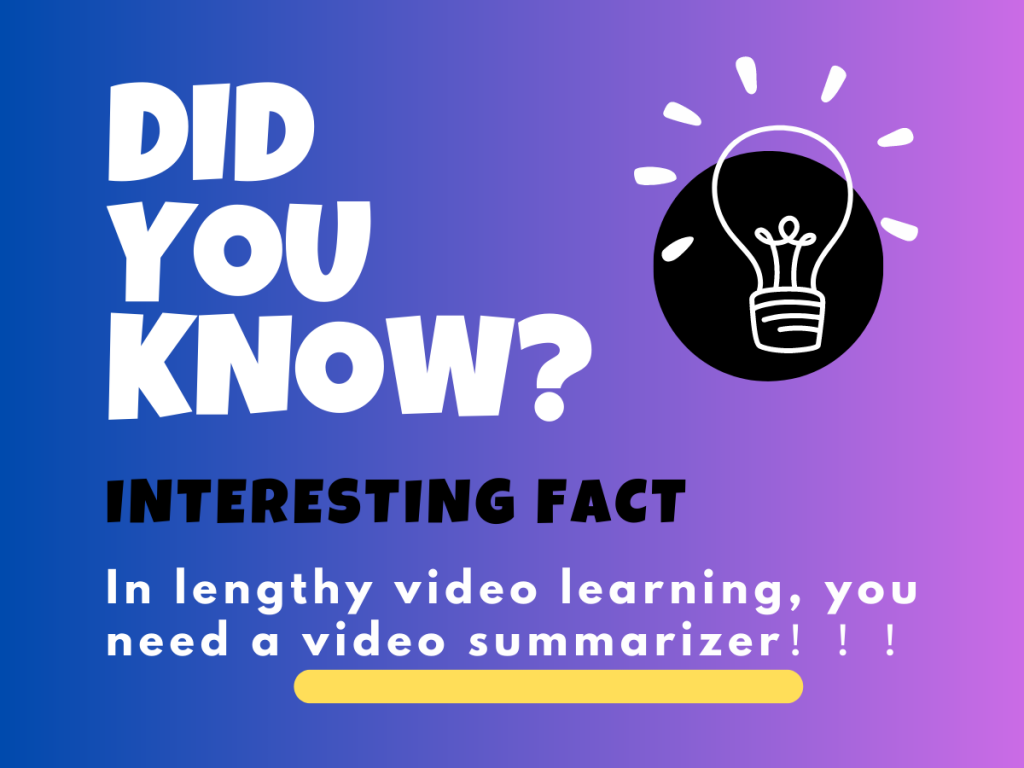 How to get a Video Summarizer for Udemy?
While Udemy opens up a treasure trove of learning, going through lengthy video lectures can be quite time-intensive.
This is where lecture summarizer comes in - a nifty Chrome extension that makes your Udemy learning experience more efficient. With Udemy Summary, you can get quick AI-generated transcripts and summaries of video lectures.
Let's look at how this useful extension can enhance your learning on Udemy.
Best Video Summarizer Tool
Udemy Summary with ChatGPT and Take Notes ,the video summarizer tool,is a Chrome extension that utilizes advanced AI to offer smart transcripts and concise summaries of Udemy videos. Developed by NoteGPT, this lecture video summarizer aims to optimize and accelerate learning on Udemy.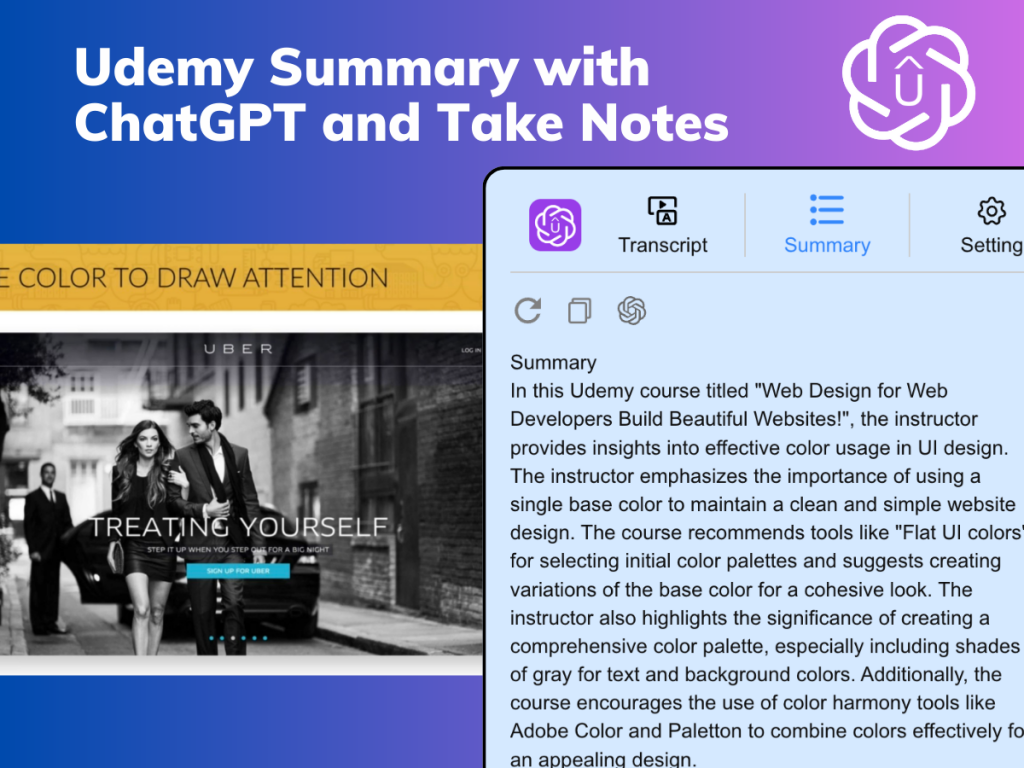 Features
Here are some of the great features of Udemy Summary:
Swiftly acquire the complete transcript of the ongoing video.
No need to manually type or pause lectures to note down what's being said. The extension automatically generates a full transcript using AI.
Furnish timestamps for seamless video navigation.
The transcript comes with timestamps that let you conveniently jump to any part of the video lecture.
Attain video summaries effortlessly through a single click, enhancing comprehension.
Get a concise text summary instantly with key points and takeaways from the video lecture.
Enjoy a user-friendly and hassle-free operational experience.
Simple and intuitive interface makes the tool easy to use on the go.
Why Choose It?
Here are some of the reasons that make video summarizer a great AI assistant for your Udemy learning:
Back transcripts with accompanying timestamps.
No need to rewind or pause videos repeatedly. Easily refer transcripts and jump to relevant sections.
Review summaries without the need to navigate elsewhere.
Summaries are readily accessible within the extension for quick recap and review.
Jot down notes during your learning journey.
Use the intuitive Notes feature to annotate key takeaways during the lecture.
Save your notes in NoteGPT for easy and convenient revision.
Securely sync notes to NoteGPT for organized access from anywhere.
With such useful features, the video summarizer & lecture summarizer can undoubtedly take your lecture comprehension and retention to the next level.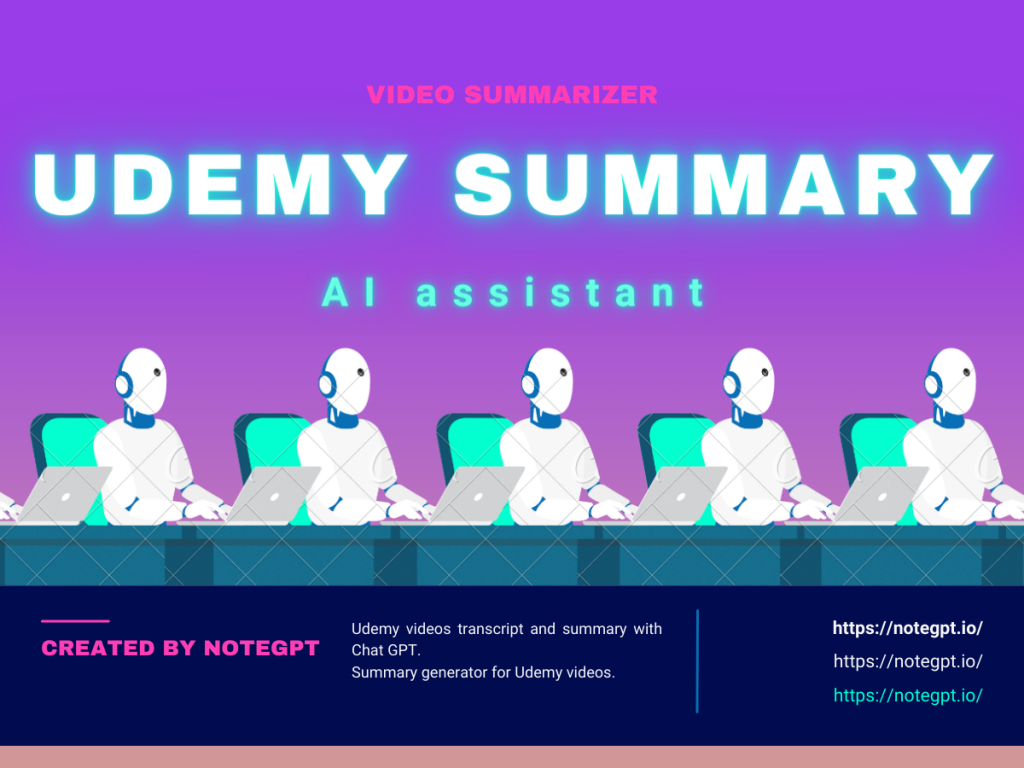 How to Use Video Summarizer for Udemy?
Using video summarizer is quick and easy. Just follow these steps:
Step 1: Install the Extension
Open Udemy and start a video lecture as usual.
The extension will automatically detect the lecture and activate the features.
Step 3: Utilize Transcript and Summary Features
As the video progresses, you'll see its transcript getting generated.
Click the "Summary" icon next to lecture title to instantly get a concise summary text.
Use the Notes feature to highlight important points for future reference.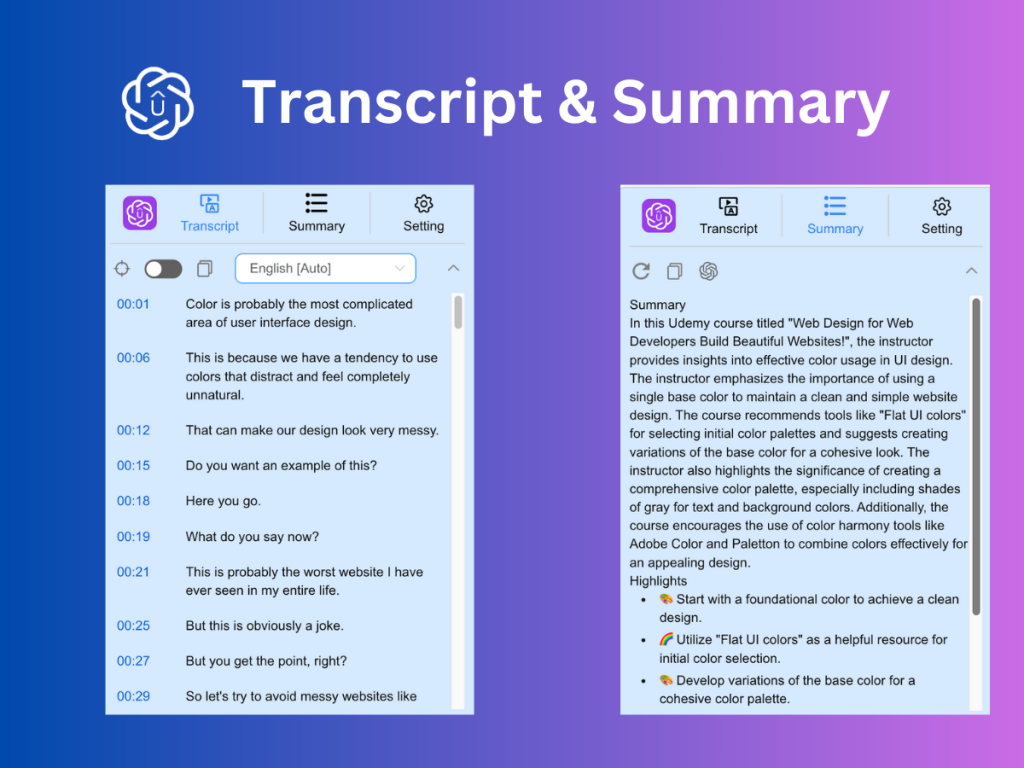 Step 4:Enhance Learning Efficiency
The transcripts, summaries and notes help you grasp the key concepts faster.
You can save time and avoid re-watching lectures to recap the content.
Your overall learning and retention is optimized and accelerated.
Conclusion
Tools like video summarizer that utilize AI and NLP are making e-learning platforms like Udemy even more impactful and efficient. Learners can now breeze through video lectures, without losing out on the core content.
Video summarizer extensions eliminate the need for extensive note-taking or re-watching videos. Their smart transcripts, summaries and annotations allow for optimized engagement with lecture content.
Going forward, we can expect more innovative applications of AI in online education - from personalized recommendations to smart evaluative tools. This will continue to enrich learning experiences while also improving outcomes and impact.
The future certainly looks exciting for AI-enabled edtech! With the right tools like Udemy Summary, you can already take your e-learning journey to the next level.
So simplify your Udemy learning experience today with the power of AI. Install Udemy Summary with ChatGPT and Take Notes ,the video summarizer & lecture summarizer,now to unlock smarter and faster knowledge acquisition!