How to use NoteGPT: Vimeo Summary with ChatGPT & Notes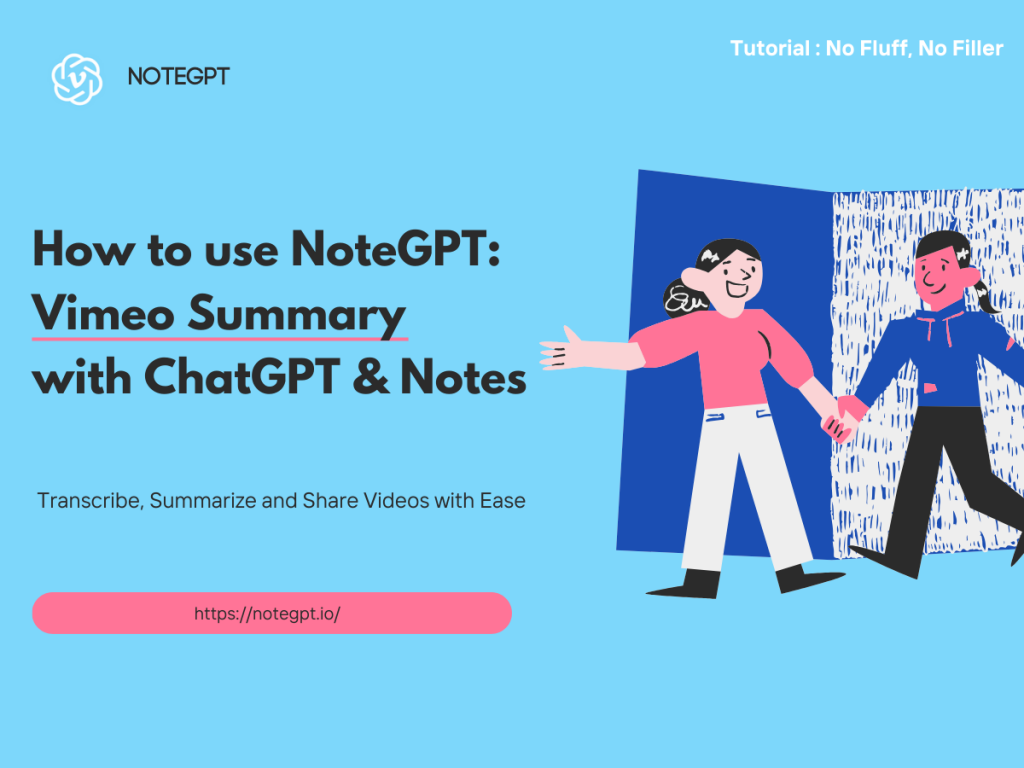 Contents
---
Introduction
Welcome to the ultimate guide on how to leverage NoteGPT: Vimeo Summary with ChatGPT & Notes to effortlessly create insightful Vimeo video summaries. This revolutionary approach will teach you how to efficiently digest video content like never before.
In this comprehensive tutorial, we will uncover the step-by-step process to:
Generate automated Vimeo video transcripts
Produce concise AI-powered Vimeo video summaries
Customize summary settings for optimal results
Export shareable Vimeo video summaries and notes
With these powerful tools at your fingertips, absorbing even lengthy videos becomes a breeze. Read on to transform the way you consume online video content forever.
Transcription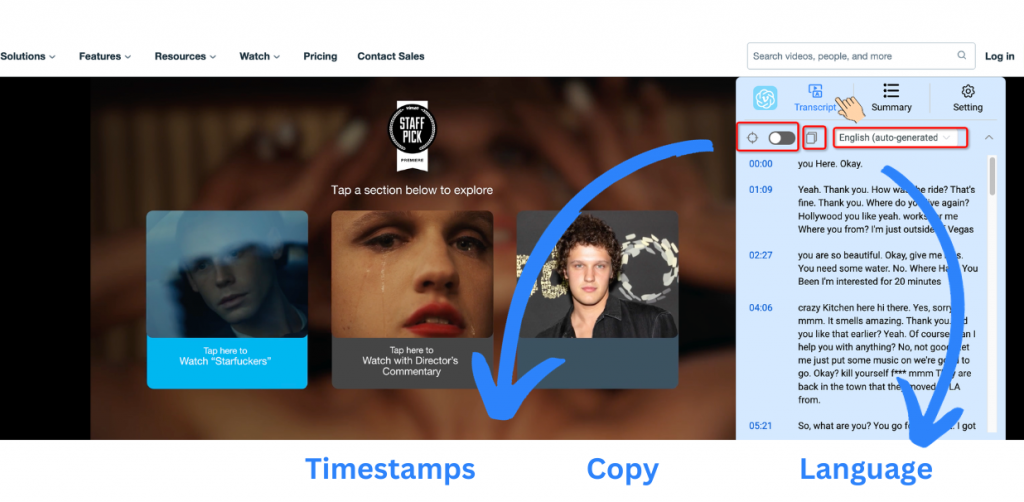 Step 1: Access Transcript Page
After downloading the Vimeo Summary browser extension from the Google Chrome Web Store, open Vimeo and select a video.
You will now see the Vimeo Summary panel floating on the right side of the video.
This will take you to the Transcript page. Here you can instantly see the full transcript of the video you are watching.
Step 2: Choose Transcription Language
Under the transcription toolbar, you will find a dropdown menu to select the language spoken in the video.
Choosing the correct language ensures maximum transcription accuracy. NoteGPT supports transcription in English, Chinese, French, German, and more.
For English Vimeo videos, select "English" from the language dropdown. For other languages, choose the appropriate option.
Step 3: Navigate with Timestamps
Once transcription is complete, the Vimeo video transcript will display on the page. Here you will notice timestamp labels alongside each line of text.
These timestamps pinpoint when each sentence occurs in the video timeline. You can click on any timestamp to immediately jump to that spot in the Vimeo video.
Leverage these timestamps to swiftly navigate transcripts and zero in on relevant sections, bypassing irrelevant chatter.
Step 4: Copy Transcript to Notes
To save Vimeo video transcripts for future reference, simply copy and paste the text into your personal note-taking app.
Many popular notes apps like Evernote, OneNote, and Google Docs make it easy to store, organize, search, and share transcripts.
This enables you to efficiently reference key video moments without having to continuously rewatch footage.
Summarization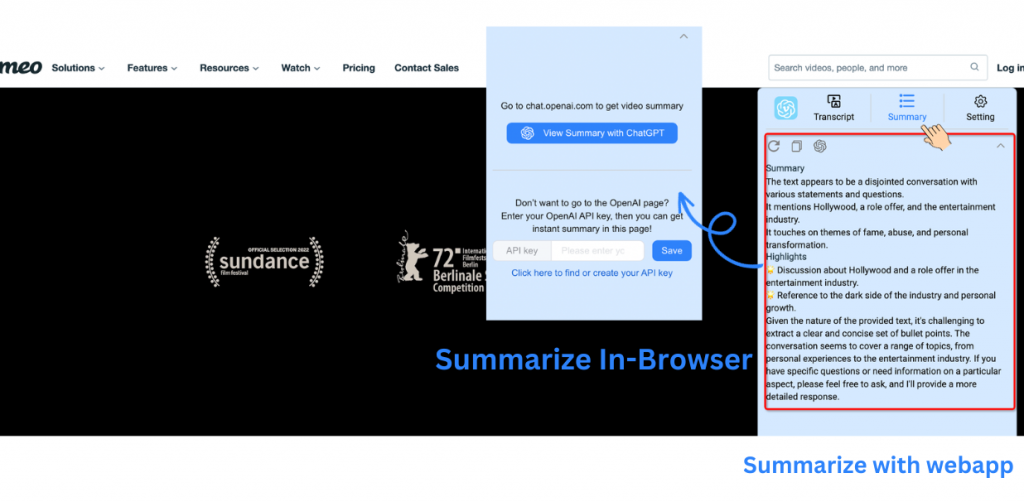 Step 1: Go to Summary Page
Now that you have generated a Vimeo video transcript, it's time to produce a concise summary.
From the Vimeo Summary toolbar, click on the "Summaries" page. Here you will again find a toolbar to upload a transcript or enter a Vimeo video URL.
NoteGPT will automatically run the transcript through powerful AI summarization technology. This condenses long transcripts into bite-sized overviews.
Step 2: AI Summary
After processing, an AI-generated Vimeo video summary will appear on the page.
You have two options for accessing the AI-generated summary for the video:
View in ChatGPT
Click on the "ChatGPT" tab in the Vimeo Summary panel.
This will open the summary in the ChatGPT window, allowing you to read the concise overview of the video's key points.
View in Panel (beta)
Alternatively, you can try viewing the summary directly in the Vimeo Summary panel by enabling the "In Panel" toggle in Settings.
However, this in-panel summarization feature is currently in beta and may have stability issues. Use at your own discretion.
The choice is yours - view the summary in ChatGPT for a robust experience or try the in-panel preview for quick access, if you don't mind potential bugs.
The result is a succinct summary that distills the essence of the video down to key facts, figures, concepts, and conclusions.
Step 3: Copy Summary
To save AI-generated Vimeo video summaries, copy and paste the text into your notes platform of choice.
Storing summaries alongside transcripts enables easy access to both the high-level overview and full transcript detail when needed.
Share summaries with colleagues, classmates, or friends to efficiently communicate video key points. No more long email attachments or links!
Settings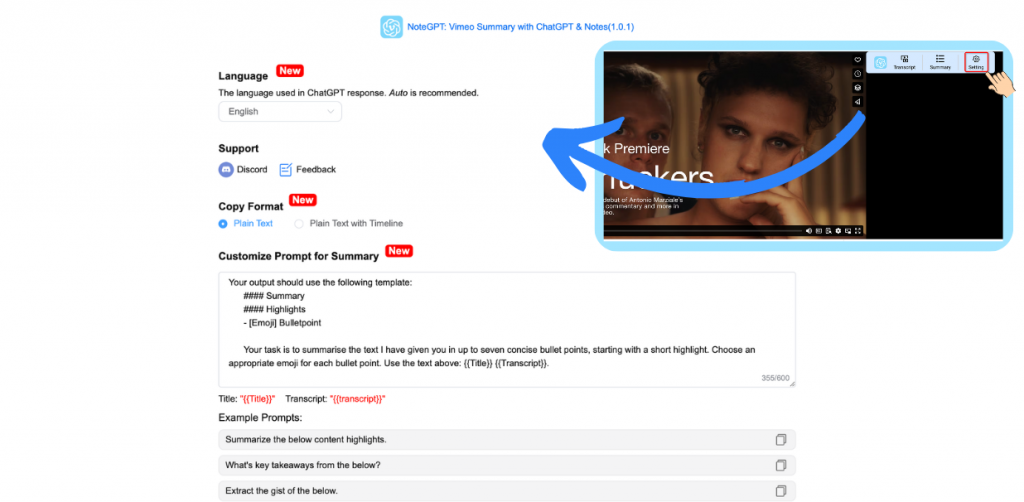 Step 1: Select Summary Language
On the Vimeo Summary "Settings" page, the first option allows choosing the default language for generated summaries.
Set to "English" to receive English summaries for English transcripts. Change to another language to get summaries in that tongue.
This saves the step of manually selecting the summary language each time.
Step 2: Customize Prompts
Additionally, Vimeo Summary allows customizing the AI prompt to fine tune summarization performance.
Prompts provide summarization instruction to the AI. Change prompts to generate different styles, lengths, and focuses of Vimeo video summaries.
Refer to the Vimeo Summary docs for prompt formatting guidance. Custom prompts provide even more summarization control.
Coming Soon
Vimeo Notes
Need to take notes on a Vimeo video? The upcoming NoteGPT integration will allow you to record notes directly from the Vimeo page.
There will be no need to leave the Vimeo page. You can generate transcripts, summaries, and take notes on the fly!
This will make absorbing video lectures extremely efficient.
Stay tuned for this Vimeo Summary feature that will revolutionize your Vimeo viewing and learning experience.
My Notes
The upcoming "My Notes" section will enable organizing and searching across all generated transcripts and summaries in one place.
Quickly pull up that key concept from a Vimeo video watched months ago. Never lose track of important information again.
Conclusion
Automated transcription eliminates tedious manual note-taking. AI summarization removes fluff to spotlight core concepts. Timestamps enable pinpoint navigation.
Storing transcripts and summaries in notes apps makes referencing video content lightning fast.
So next time you need to efficiently absorb a Vimeo video, leverage NoteGPT to unlock the power of AI for transformative video summarization. You'll retain more in a fraction of the time.
The future of video learning is here. It's time to take note!